Aluminium Composite Panel or ACP Sheet:
Aluminium composite panel is popularly known as ACP. It is made up of aluminium composite material(ACM), which contains two thinly coated aluminium sheets. Being comprised of two distinct materials that is metals and non-metal, as aluminium is a metal and polyethylene plastic is a nonmetal, it overcomes the limitations and the drawbacks of the original material.
As these Aluminium Composite Panels have ample advantages, it is widely used at several places like in outdoor occasions and outdoor ones.
The outdoor occasions usually include cladding, partition, and building exterior walls besides being used as curtain wall panels and in the renovation of old buildings.
The indoor occasions may include ceiling decoration, dust prevention, purification, advertising signs display stands, to name a few
Alloy Group ACP – The largest providers of best in class leading facade materials and more & having years of experience in manufacturing Premium ACP Sheets Aluminum Composite Panels. We aim to deliver excellence and ensure maximum worth for our clients' money
Let us talk about ACP Sheet:
ACP Panel is a new age material that is used for building exteriors, interior applications as well as for signage boards. ACP sheets can be availed in wide range of colors and finishes such as wood, stone, sand, 3D etc. ACP allows more design liberty as it is highly reliable in terms of its life span and it can be easily bent or folded and get into shapes which the designers can't achieve by any other material. This is a major reason many architects prefer these ACP Sheets for designs choose them during any construction project.
Why Choose ACP Sheet?
No material is as flexible as the ACP Sheets. Moreover, it is a modern age material that comes up with lots of practical and technical advantages over traditional materials.
It's lightweight
It's delightfully flexible
It's easy to work with
It's easy to install
It can be installed real fast
It's durable & easy to maintain
It's cost-effective and
It offers a wider variety of colors and textures.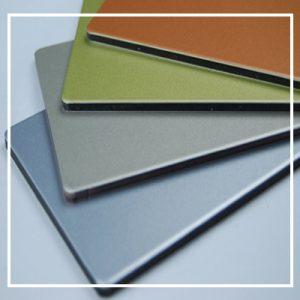 Applications of ACP Sheet:
1. Façade or Cladding
The Simplicity, Great Evenness, The lightweight of it and the most Stretched out Shading Choices make Alloy Group ACP a Designer's Delight. ACP Panels can be used for cladding in the external architecture as well as in interiors due to its high durability and flexibility. Our ACP Sheets can withstand rigorous wear and tear being UV Resistant and extends the lifespan of the establishment.
2. Partitions:
All the office structures these days want to use the available floor space to the highest optimum levels. And to achieve this, they use internal partitions. The material which is in demand for being used in making these partitions are ACP Panels by Alloy Group. ACP is also one of the most cost effective variant among the range of partition materials. Therefore, it is widely used material in the construction world.
3. Signage
Alloy Group ACP Sheet products have always emerged as the best in creating one-of-its-kind signages. Alloy Group ACP encompasses all the major Aluminum signage materials for all of your signboard design needs. Our ACP can be used to make a range of versatile outdoor signages because signage and hoardings are used for outside applications and it need to withstand the temperature & weather changes. Therefore, in this case ACP is the ideal material to cater these applications.
4. Interiors
Alloy Group also offers world class building materials for all your interior application requirements such as facial panels, column covers, furniture, display units canopy etc. With an extraordinary range of finishes available at Alloy Group ACP, it has become extremely easy to create wardrobes, bookshelves as well as other furniture units from Alloy Group ACP as these are elegant and beautiful albeit being durable, water & stain resistant and light weight.
ACP Sheet Price:
Want to have a dynamic look for your building? Come to your own Alloy Group Group, we have designed ACP sheets as per your needs and demands with very affordable ACP sheet price in India. That means you will be investing in ACP sheet once, but you will be witnessing their lasting impact for years. ACP cladding in India by the best aluminium composite panel manufacturers livens up a building by augmenting its style quotient. However, most people compromise with the ACP sheets quality due to the high price. But, no worries, we understand your feelings and value them at the same time. Therefore, we have brought to you the best quality and colorful sheet range with wallet-friendly ACP sheet price per sqft.
What We Offer:
Advanced Technology:
At Alloy Group, we use advanced technology to take care of our clients as well as our productivity in order to meet our Client's Requirements.
Customer Support:
A customer-centric approach has been instilled in the staff at Alloy Group to improve relationships with customers. They are trained and experienced to handle all queries and concerns.
Expert Engineers:
We have a team of talented expert engineers and amazing architects who will find a way to make all the dreams of Excellent Interior & Exterior Designs come true.
On Time Delivery:
We are adhered to deliver on time as per the requirements of the clients and that material delivery always remained and will always remain on priority for our business.